---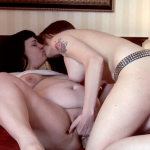 At Indie Porn Revolution, we fucking love Femmes. A LOT. Fierce queer porn star femmes? HELL YES. This scene stars our sites very own Courtney Trouble, and one of our fave babes, Paris Kennedy. This is one of those scenes for those who just can't wait to start fucking. Courtney thrusts Paris's hand inside their pussy from the moment the scene starts for some super hot finger fucking, followed by Courtney fucking Paris right back. The concept is simple, the scene on the other hand is dynamic. Check out the trailer above for hot taste of this hotel fuck that will leave you thirsty for so much more.
Directed by Courtney Trouble/Shot by Mickey Mod
Member's Only: Watch it Now!
Click on the icon in the corner to watch this full screen!
If this video isn't working, you should try logging in first, then come back and press play! Only subscribed members should be able to play this video – if you're not a member, join now and get instant access to this scene, and everything else on the site!
Not a Member? Join Indie Porn Revolution for 9.99 and get instant access to this scene!