---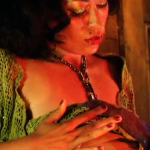 It's the Summer of 2012, and everyone is obbsessed with one thing: Skin. Oh, and the Olympics. Well, Indie Porn Revolution has mixed the Olympics and Sex to bring you the true champion of burlesque, the ledgendary Vagina Jenkins and her most recent performance at Cum and Glitter.
Indie Porn Revolution is a proud sponsor the The Sex Olympics, I mean, Cum and Glitter – San Francisco's PREMIER Live Sex Show! Click here to see past performances, and go to CumAndGlitter.Com for more information!
Member's Only: Watch it Now!
Click on the icon in the corner to watch this full screen!
If this video isn't working, you should try logging in first, then come back and press play! Only subscribed members should be able to play this video – if you're not a member, join now and get instant access to this scene, and everything else on the site!
Not a Member? Join Indie Porn Revolution for 9.99 and get instant access to this scene!