---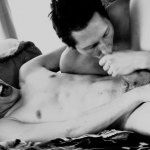 Quinn Cassidy and Robert Would redefine gay porn in this incredible short film by Courtney Trouble. This film was made especially for the film Fucking Different XXX, out in the USA this winter. Shot in black and white in a charter bus in Oakland, Quinn and Roger show chemistry and passion between strangers, with a climax that has warranted standing ovations everywhere it's been shown, including Berin Porn Film Festival and Oakland's Briefs Erotic Film Festival.
Member's Only: Watch it Now!
Click on the icon in the corner to watch this full screen!
If this video isn't working, you should try logging in first, then come back and press play! Only subscribed members should be able to play this video – if you're not a member, join now and get instant access to this scene, and everything else on the site!
Not a Member? Join Indie Porn Revolution for 9.99 and get instant access to this scene!