---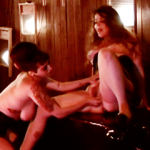 If you haven't heard of Cum and Glitter, you need to close your eyes and get back to dreamland, immediatly, where girls and boys and genderqueers run around naked and fucking each other, on a stage, for your assumement. If you'll never get close enough to the real thing (which takes place every few months in San Francisco) the best you can do is stay right here, and stay fast asleep while these sugarplum fairies fuck in your head.
This live performance by Arabelle and Maxine is literally squirt-worthy, do put down a towel and get to dreaming…
Member's Only: Watch it Now!
Click on the icon in the corner to watch this full screen!
If this video isn't working, you should try logging in first, then come back and press play! Only subscribed members should be able to play this video – if you're not a member, join now and get instant access to this scene, and everything else on the site!
Not a Member? Join Indie Porn Revolution for 9.99 and get instant access to this scene!